Sweet Potato Pie with Meringue Topping
By
Paula Deen
JUMP TO RECIPE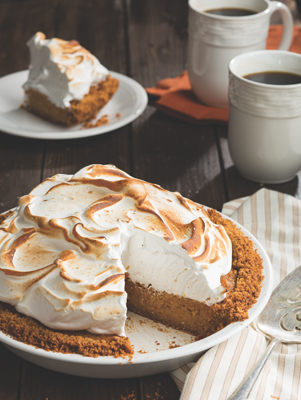 Featured in:
Paula Deen's Southern Baking
Difficulty: Hard
Prep time: 20 minutes
Cook time: 80 minutes
Servings: 1 (9-inch) pie
Ingredients
Crust
1½ (7-ounce) packages amaretti cookies, crushed
⅓ cup unsalted butter, melted
⅛ teaspoon kosher salt
Filling
4 large eggs
1 cup sugar
1 teaspoon pumpkin pie spice
1 teaspoon vanilla extract
¾ teaspoon kosher salt
2 cups mashed cooked sweet potato (about 2 large sweet potatoes)
Topping
1 cup sugar
¼ cup water
2 tablespoons light corn syrup
3 egg whites, room temperature
⅛ teaspoon kosher salt
⅛ teaspoon cream of tartar
Directions
Crust
Preheat oven to 375°.
In a medium bowl, whisk together all ingredients. Using the bottom of a measuring cup, press mixture into bottom and up sides of a 9-inch pie plate.
Bake for 10 minutes. Let cool on a wire rack. Reduce oven temperature to 350°.
Filling
In a large bowl, whisk together eggs, sugar, pie spice, vanilla, and salt until smooth; whisk in sweet potato until well combined. Spread filling into prepared crust. Cover edges of crust with foil.
Bake until an instant-read thermometer inserted in center registers 200°, 45 to 55 minutes. Let cool completely on a wire rack.
Topping
In a large heavy-bottomed saucepan, stir together sugar, ¼ cup water, and corn syrup just until moistened. Cook over medium-high heat, without stirring, until mixture registers 240° on a candy thermometer, about 16 minutes. Remove from heat; let cool just until mixture stops boiling.
Meanwhile, in a large bowl, beat egg whites, salt, and cream of tartar with a mixer at medium speed until soft peaks form. Increase mixer speed to high, and gradually add hot sugar syrup in a slow, steady stream. Beat until mixture is thick, white, and glossy, 4 to 6 minutes. Spread meringue onto pie, sealing edges. Using a handheld kitchen torch, carefully brown meringue. Serve immediately.