Roasted Beet Salad with Cocoa Vinaigrette
By
Paula Deen
JUMP TO RECIPE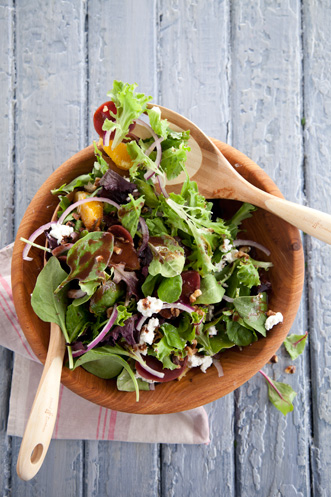 Difficulty: Easy
Prep time: 30 minutes
Cook time: 75 minutes
Servings: 8
Ingredients
2 tablespoons olive oil
1/4 teaspoon salt
1/4 teaspoon black pepper
6 small beets, washed and peeled
1 (5 oz) bag bag spring mix salad greens
2 oranges, peeled and sectioned
1/2 cup walnuts, chopped and toasted
1/2 cup goat cheese, crumbled
1/3 cup red onion, thinly sliced
1/2 cup cacao nibs
Cocoa Vinaigrette
1/4 cup red wine vinegar
1 teaspoon unsweetened cocoa powder
1/2 teaspoon sugar
1/4 teaspoon Salt
1/4 teaspoon black pepper
1/4 cup olive oil
Directions
Roasted Beet Salad
Preheat the oven to 350 °F.
In a small bowl, combine the olive oil, salt and pepper. Brush the beets with the olive oil mixture, then wrap them in aluminum foil and arrange on a baking sheet. Bake until fork tender, about 1 hour and 15 minutes. Remove from the oven and let cool in the foil. Slice the beets and set aside.
Evenly divide the salad greens, orange sections, walnuts, goat cheese, red onion and beets between 4 salad plates. Top each salad with 2 tablespoons of cacao nibs. Drizzle with Cocoa Vinaigrette just before serving.
Cocoa Vinaigrette
In a small bowl, add the vinegar, cocoa powder, sugar, salt and pepper and whisk until smooth. Slowly add the oil, whisking constantly, until blended.
Yield: about 1/2 cup