Roast Pork Chops with Cheddar and Bacon Grits
By
Paula Deen
JUMP TO RECIPE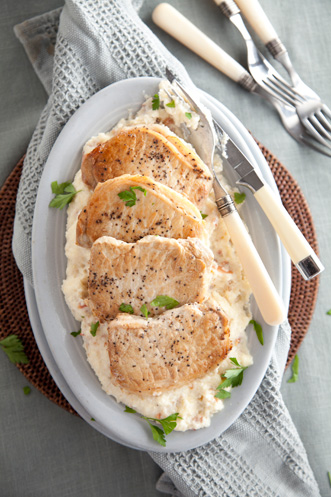 Difficulty: Easy
Prep time: 10 minutes
Cook time: 30 minutes
Servings: 4
Ingredients
Cheddar and Bacon Grits
5 cups milk
1 cup quick cooking grits
1/2 teaspoon salt
1/4 teaspoon ground black pepper
1/4 cup butter
1/4 cup cheddar cheese, grated
4 slices bacon, cooked and crumbled
Roast Pork Chops
2 tablespoons vegetable oil
4 large pork chops
1/2 teaspoon salt
1/4 teaspoon ground black pepper
Directions
Cheddar and Bacon Grits
In a medium saucepan, bring the milk to a boil over medium-high heat. Add the grits, salt, pepper, and butter. Cook and stir frequently, until the grits are soft. Stir in cheese and bacon. Set aside and keep warm.
Roast Pork Chops
Sprinkle the pork chops with the remaining salt and pepper, or to taste.
In a large nonstick skillet, heat the oil over medium-high heat. Add the pork chops, and cook for 10 minutes, turning occasionally.
Spoon some grits onto each serving plate and arrange a pork chop on top.