Red Velvet Trifle
By
Paula Deen
JUMP TO RECIPE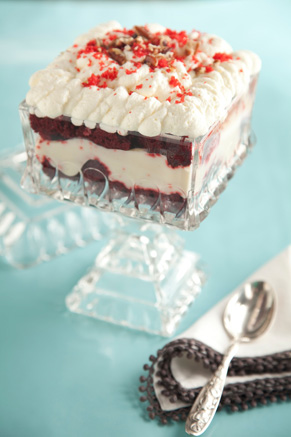 Difficulty: Medium
Prep time: 15 minutes
Cook time: 30 minutes
Servings: 8
Ingredients
1 teaspoon vanilla
1 cup buttermilk
1 teaspoon salt
2 1/2 cup cake flour
1/2 lb (2 sticks) butter
2 oz red food coloring
2 tablespoons cocoa
2 cups sugar
2 eggs
1/2 teaspoon baking soda
1 tablespoon vinegar
1 3-oz. envelope cheesecake instant pudding mix
2 cups milk
2 cups fresh whipped cream
1/4 cup pecan pieces
fresh mint
Directions
Preheat oven to 350º.
Prepare three 8″ round cake pans with non stick cooking spray and set aside.
In a large mixing bowl using a hand mixer, beat eggs, butter and sugar until creamy. Add cocoa and food coloring. Mix until well combined.
In a medium mixing bowl, sift together flour and salt. Add to creamed mixture alternating with buttermilk. Blend in vanilla.
In a small bowl, combine soda and vinegar and add to batter. Pour into prepared pans. Bake for 20 to 25 minutes, or until tests done. Allow cakes to cool completely.
Meanwhile, prepare instant pudding according to the package directions using 2 cups milk. Allow pudding to set up in the refrigerator for 10 minutes. Using a spatula, gently fold in whipped cream.
To assemble the trifle, cut the red velvet cake into 1 inch cubes. Place an even layer of cubed cake in the bottom of a trifle bowl. Top with 1/3 of the pudding mixture. Repeat the layer process so that the final layer is pudding. Top with pecan pieces and fresh mint leaves. Chill until ready to serve.