Raspberry and Sherry Trifle
By
Paula Deen
JUMP TO RECIPE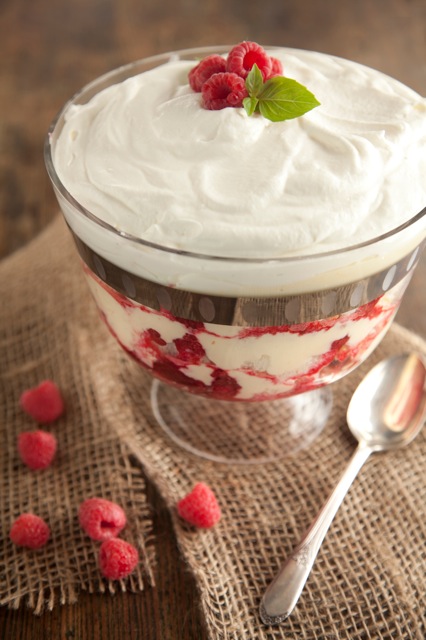 Difficulty: Medium
Prep time: 260 minutes
Cook time: 45 minutes
Servings: 8
Ingredients
1 (18 oz) package cake mix
1 1/2 cups dry sherry
7 egg yolks
3/4 cup granulated sugar
2 cups whipping cream
2 tablespoons confectioner's sugar
3 (12 oz) packages frozen sweetened raspberries, thawed
whipped cream, for garnish, optional
fresh raspberries, for garnish, optional
fresh mint, for garnish, optional
Directions
Preheat oven to 350 °F. Butter and flour a 13 by 9-inch baking pan.
Prepare the cake according to package directions, but use 1/2 cup of the sherry in place of 1/2 cup water. When baked, let cool in the pan for about 10 minutes, then invert onto a wire rack to cool completely. Cut the cake into large cubes, about 1 1/2-inches wide.
Place the egg yolks, granulated sugar and remaining 1 cup sherry into the top of a double boiler. Whisk until completely combined. Place the top pan over simmering water (do not let water touch the bottom of the top pan). With a wooden spoon, stir over medium heat for about 8 minutes, until the custard is quite thick, about the consistency of mayonnaise. Let cool.
Whip the cream with the confectioners' sugar. Take half of the whipped cream and fold into the cooled custard.
To assemble:
In the bottom of a trifle bowl or a 13 by 9-inch disposable aluminum foil pan, layer 1/3 of the cake cubes, 1/3 of the raspberries and 1/3 of the custard. Continue layering, ending with custard. Take the remaining whipped cream and completely cover the top of the custard. Refrigerate at least 4 hours before serving. Serve with additional whipped cream, fresh raspberries and a sprig of mint, if desired.