Pressure Cooker Pork Loin
By
Paula Deen
JUMP TO RECIPE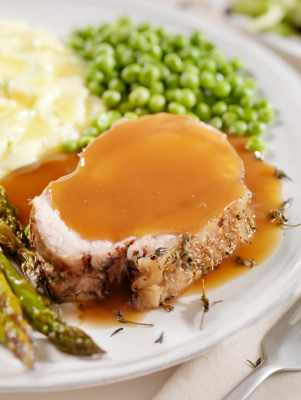 Difficulty: Easy
Prep time: 10 minutes
Cook time: 40 minutes
Servings: 4
Ingredients
pork loin roast
olive oil
non-stick spray
1 cup water
2 bay leaves
1 package pork gravy mix
Directions
Trim excess fat from pork loin. Rub the loin with olive oil. Season the entire loin with Paula Deen House Seasoning. Spray the basket of pressure cooker with non-stick cooking oil. Place the loin in the pressure cooker, and add water around the sides of your roast. Top off with 2 bay leaves.
Lock your pressure cooker and cook for 30 minutes. Depending on the size of your roast, you may need to add additional cooking time. Cook until tender.
Once done, remove your pork loin and place on a serving dish. Whisk the gravy mix into the juices left from the roast; stir and cook until thick. Once gravy thickens, pour over pork loin and serve with mashed potatoes.