Turnip & Mustard Greens
By
Paula Deen
JUMP TO RECIPE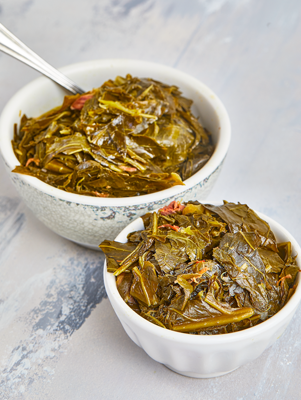 Difficulty: Easy
Prep time: 20 minutes
Cook time: 60 minutes
Servings: 6 to 8
Ingredients
5 to 6 large pieces hog jowl, scored
2 bags pre-washed turnip greens
1 bag pre-washed mustard greens
2 turnip root, peeled and cut
2 cups water plus more during cooking
1 to 2 Tablespoons wet chicken base
1 Tablespoon Paula Deen House Seasoning
1 teaspoon garlic powder
2 teaspoons onion powder
1 teaspoon seasoning salt
1 stick salted butter
Directions
Place hog jowl in a Dutch oven and fry until done—you will want a good amount of fat as this is needed to season the greens.
Remove the stems from both the turnip and mustard greens.
Once hog jowl is cooked, add turnip and mustard greens into the Dutch oven, stirring until completely covered by hog jowl juices. (Depending on size of pot, you may need to start with two bags adding the third once they have cooked down.)
Simmer the greens in two cups of water until they are tender. Add wet chicken base, house seasoning, garlic powder, onion powder, and seasoning salt. Continue to watch your pot, adding water as your greens cook down. Add one stick of butter and let cook for approximately 15 minutes on low.
After 15 minutes, add the turnip roots. Cook an additional 15 minutes or until turnip root is soft. Serve warm.