Herb Crusted Pork Loin
By
Paula Deen
JUMP TO RECIPE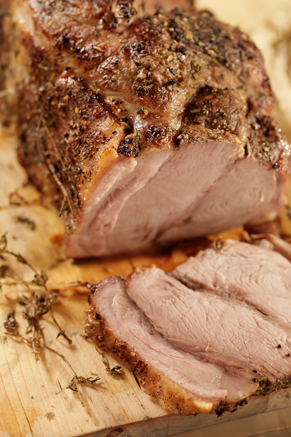 Difficulty: Easy
Prep time: 10 minutes
Cook time: 10 minutes
Servings: 10
Ingredients
1 (4 lb) with fat left on boneless pork loin
1 tablespoon salt
2 tablespoons olive oil
4 cloves minced garlic
1 teaspoon or 2 teaspoons minced fresh thyme leaves dried thyme
1 teaspoon or 2 teaspoons fresh basil leaves dried basil
1 teaspoon or 2 teaspoons minced fresh rosemary dried rosemary
Directions
Preheat oven to 475 °F.
Place the pork loin on a rack in a roasting pan. Combine the remaining ingredients in a small bowl. With your fingers, massage the mixture onto the pork loin, covering all of the meat and fat.
Roast the pork for 30 minutes, and then reduce the heat to 425 °F and roast for an additional hour. Test for doneness using an instant-read thermometer. When the internal temperature reaches 155 °F, remove the roast from the oven. Allow it to sit for about 20 minutes before carving. It will continue to cook while it rests.