Pimiento Cheese Omelet
By
Paula Deen
JUMP TO RECIPE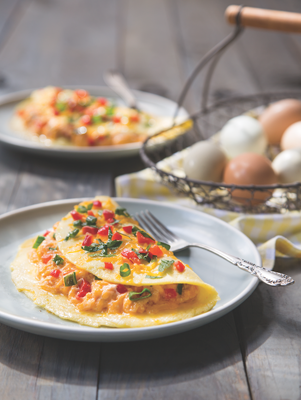 Featured in:
At the Southern Table
Get your copy of At the Southern Table with Paula Deen here.
Difficulty: Easy
Prep time: 5 minutes
Cook time: 5 minutes
Servings: 1
Ingredients
2 large eggs
1 tablespoon heavy whipping cream
1/4 teaspoon Kosher salt
1 tablespoon unsalted butter
1/3 cup pimento cheese
2 tablespoons chopped green onion
Toppings: chopped green onion
Toppings: diced pimientos
Toppings: shredded Cheddar cheese
Directions
In a medium bowl, whisk together eggs, cream, and salt.
In a small nonstick skillet, melt butter over medium heat. Add egg mixture; cook, without stirring, until edges are set. Using a spatula, lift up cooked edges so that uncooked portion flows underneath; cook until center is just set. Spread Pimiento Cheese and green onion onto one side of eggs. Let stand for 10 seconds. Using a spatula, fold opposite side of eggs over to enclose filling. Invert omelet onto a serving plate. Serve immediately with desired toppings.