Pimiento Cheese Squash Casserole
By
Paula Deen
JUMP TO RECIPE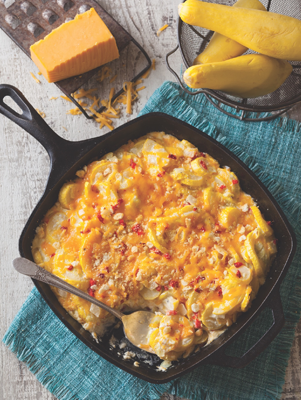 Featured in:
Cooking with Paula Deen Magazine
Difficulty: Easy
Prep time: 20 minutes
Cook time: 40 minutes
Servings: 8 to 10
Ingredients
10 cups sliced yellow squash (about 3 pounds)
1 cup chopped yellow onion
1¾ teaspoons Kosher salt, divided
⅔ cup sour cream
⅔ cup mayonnaise
1 large egg
¼ teaspoon ground black pepper
2 cups shredded sharp cheddar cheese
1 (7-ounce) jar diced pimientos, drained
⅓ cup crushed round buttery crackers
Directions
Preheat oven to 350˚F. Spray a 2½-quart ovenproof dish with cooking spray.
In a large Dutch oven, bring squash, onion, 1 teaspoon salt, and water to cover to a boil over medium-high heat. Reduce heat to medium-low; simmer until vegetables are almost tender, about 7 minutes. Drain well.
In a large bowl, whisk together sour cream, mayonnaise, egg, black pepper, and remaining ¾ teaspoon salt. Stir in squash mixture, 1½ cups cheese, and pimientos. Pour into prepared pan. Top with remaining 1 cup cheese and crushed crackers.
Bake until hot and bubbly and cheese is melted, about 25 minutes. Let stand for 10 minutes before serving.
Cook's Note: Be careful not to boil the squash for too long—you want it to hold its shape when you fold in the pimientos and cheese.