Pan-Fried Flounder with Creamy Lemon Sauce
By
Paula Deen
JUMP TO RECIPE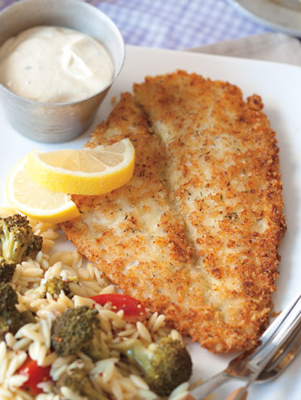 Featured in:
Cooking with Paula Deen Magazine
Difficulty: Easy
Prep time: 15 minutes
Cook time: 5 minutes
Servings: 6
Ingredients
1 cup all-purpose flour
1 teaspoon salt
½ teaspoon ground black pepper
2 large eggs
1 cup panko (Japanese bread crumbs)
1 cup grated Parmesan cheese
½ teaspoon garlic powder
½ teaspoon dried thyme
6 (6-ounce) flounder fillets
vegetable oil, for frying
1 cup mayonnaise
1 tablespoon Dijon mustard
1 teaspoon dried parsley
1 teaspoon fresh lemon juice
1 teaspoon prepared horseradish
Directions
Preheat oven to 400°. Line a large rimmed baking sheet with aluminum foil.
In a shallow dish, whisk together flour, salt, and pepper. In another shallow dish, lightly beat eggs. In a third shallow dish, stir together bread crumbs and next 3 ingredients.
Dredge flounder in flour mixture, shaking off excess; dip in eggs, letting excess drip off. Dredge in bread crumb mixture to coat.
In a large skillet, pour oil to a depth of ¼ inch, and heat over medium-high heat. Add flounder, and cook for 4 minutes per side or until golden brown; transfer to prepared pan.
Bake for 5 to 6 minutes or until fish flakes easily with a fork.
Meanwhile, in a small bowl, stir together mayonnaise and all remaining ingredients. Serve with fish.