Pan-Fried Pork Chops With Blackberries
By
Paula Deen
JUMP TO RECIPE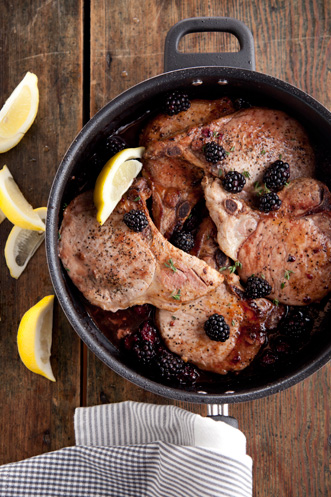 Difficulty: Easy
Prep time: 5 minutes
Cook time: 20
Servings: 8
Ingredients
8 (6-ounce) ¾-inch thick bone-in pork chops
Paula Deen's House Seasoning, to taste
4 tablespoons (½ stick) butter
¼ cup canola oil
½ cup dry white wine
2 cups blackberries
1 tablespoon honey
1 tablespoon fresh thyme leaves
lemon wedges, for serving
Directions
Sprinkle the chops with a generous amount of seasoning. Heat a large skillet over high heat. Add the butter and oil and swirl until the butter is melted. Sear the chops, in two batches if necessary, until golden, about 2 minutes per side. Transfer the chops to a paper towel-lined plate.
Remove the skillet from the heat, add the wine, and return it to the heat. Simmer, scraping up the brown bits, until the wine has mostly evaporated, 4 to 6 minutes. Whisk in the blackberries and honey and cook until the berries are soft and falling apart, 5 to 7 minutes. Add the thyme and adjust the seasoning.
Reduce the heat to low and add the pork chops, overlapping them in the pan. Baste the chops well with the sauce, cover and cook until warmed through, 1 to 2 minutes. Serve lemon wedges.