Blackberry-Lemon-Mint Tea
By
Paula Deen
JUMP TO RECIPE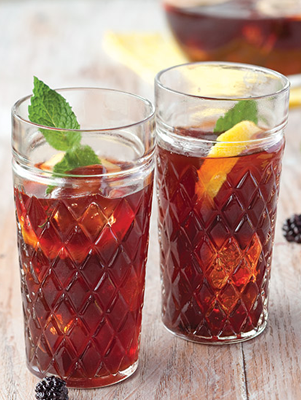 Featured in:
Cooking with Paula Deen Magazine
Difficulty: Easy
Prep time: 10 minutes
Cook time: 40 minutes
Servings: Makes 2 Quarts
Ingredients
2 quarts water
6 Luzianne iced tea family-size tea bags
8 fresh mint leaves, torn
8 cups fresh blackberries
2 cups sugar
2 teaspoons lemon zest
lemon slices, for garnish
fresh mint, for garnish
Directions
In a large saucepan, bring 2 quarts water to a boil. Remove from heat, add tea bags and mint, and let stand for 15 minutes. Discard tea bags.
In a very large bowl, stir together blackberries, sugar, and lemon zest. Pour tea over blackberry mixture, and let stand for 20 minutes.
Strain tea mixture into a large pitcher, discarding solids. Refrigerate until cold. Serve over ice, and garnish with lemon and mint, if desired.
Cook's Note: Two (16-ounce) packages thawed frozen blackberries can be used in place of fresh.