Garden Salad With Fried Okra Croutons
By
Paula Deen
JUMP TO RECIPE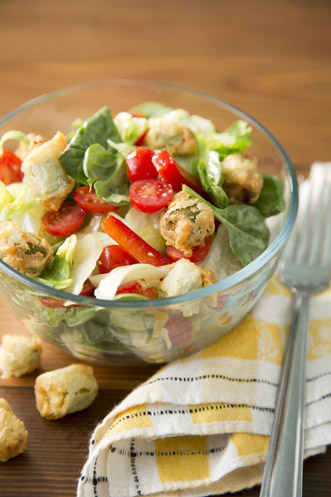 Difficulty: Easy
Prep time: 10 minutes
Cook time: 10 minutes
Servings: 10
Ingredients
1/4 cup balsamic vinegar
1 teaspoon dijon mustard
1/2 juiced, plus 1 teaspoon zest lemon
2 cloves minced garlic
3/4 cup extra virgin olive oil
3 cups cut into 1/2-inch pieces okra
to coat buttermilk
salt
black pepper
to coat flour
for frying vegetable oil
3 cups baby spinach
2 cups shredded iceberg lettuce
halved cherry tomatoes
1 sliced red bell pepper
1 sliced yellow bell pepper
thinly sliced Vidalia onion
Directions
For the balsamic dressing: In a small bowl, combine the balsamic vinegar, mustard, zest, garlic and lemon juice. Whisk in the olive oil until emulsified. Season with salt and pepper.
For the fried okra: Add okra pieces to a medium bowl. Drizzle just enough buttermilk to coat the okra and toss together. Season with salt and pepper. To a separate bowl, add flour. Drain the okra and add to the flour bowl, toss the okra to coat each piece with flour. Shake off any excess flour. Fry at 350 °F until golden brown, for 2 to 3 minutes. Remove to paper-towel lined plate to drain.
For the salad: In a large bowl, combine the baby spinach, iceberg lettuce, tomatoes, bell peppers and onions. Toss with the balsamic dressing and top with the fried okra croutons.