Pan Fried Quail with Grits and Onion Gravy
By
Paula Deen
JUMP TO RECIPE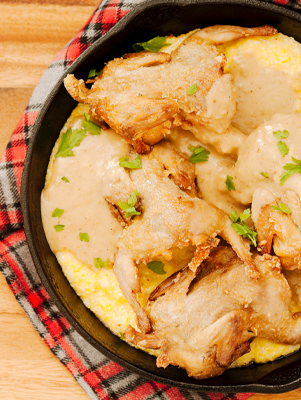 Difficulty: Easy
Ingredients
8 dressed quail
for brining salt
8 strips thick-cut breakfast bacon
1 teaspoon optional or more crumbled dried sage
1 teaspoon or more worcestershire sauce
4 cups hot cooked grits
1 1/2 cups unbleached all-purpose flour
1/2 cup finely chopped onion
1 1/2 cups or water beef stock
Directions
Dissolve a small handful of salt (about a tablespoon) in a quart of water.
Rinse the quail under cold running water and add them to the brine.
Soak at least 30 minutes or for up to an hour.
Drain and season well with pepper and, if liked, sage.
Preheat the oven to the warm setting, (170-200 degrees F.).
Meanwhile, fry the bacon in a large, deep skillet or Dutch oven over medium heat, turning frequently, until browned and crisp.
Remove the bacon, blot it on absorbent paper, and set it aside for another use.
Add enough oil to the pan to make the fat at least 1 inch deep, but no more than halfway up the sides. Heat until it is shimmering but is not quite smoking.
Roll the quail in the flour until well-coated, shake off the excess, and slip them into the hot fat until the pan is full but not crowded.
Fry until the bottom is golden, about 7 to 8 minutes, turn, and fry until evenly golden brown and just cooked through, about 7 minutes longer, working in batches if necessary.
Lift them from the pan with tongs or a wire frying skimmer, let drain until the fat is no longer dripping from them, and blot briefly on absorbent paper.
Transfer to a wire rack set over a rimmed cookie sheet, and keep them warm in the oven while making the gravy.
Carefully pour off all but 2 tablespoons of fat and add the onion to the pan. Sauté, stirring often, until deep gold, about 4 minutes.
Stir in 2 tablespoons of flour and cook, stirring constantly, until smooth and bubbly, about 2 to 3 minutes.
Slowly stir in the broth or water and cook, again stirring constantly, until lightly thickened and beginning to boil.
Reduce the heat to low, season to taste with salt, pepper, sage, and Worcestershire, and simmer 3 to 4 minutes, stirring occasionally.
Pour into a warmed gravy bowl.
Serve the quail at once with hot grits, passing the gravy separately.