North Carolina-Style Spicy Pulled Pork Sandwiches
By
Deen Brothers
JUMP TO RECIPE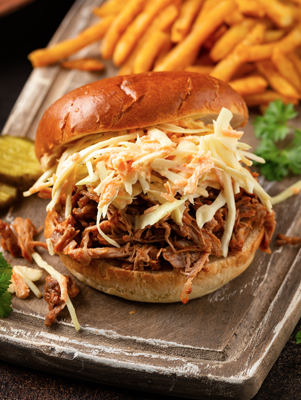 Featured in:
The Deen Bros. Y'all Come Eat
Difficulty: Easy
Prep time: 30 minutes
Cook time: 280 minutes
Servings: 10 to 12
Ingredients
1 tablespoon salt
1 teaspoon garlic powder
1/2 teaspoon freshly ground black pepper
Pinch of crushed red pepper flakes
Pinch of celery seeds
1 7-pound boneless pork shoulder
10 to 12 soft hamburger buns
3 cups cider vinegar
1 cup ketchup
2 tablespoons dry mustard powder
2 tablespoons packed dark brown sugar
2 tablespoons Worcestershire sauce
2 teaspoons crushed red pepper flakes
2 teaspoons salt
1 teaspoon chili powder
1/2 teaspoon freshly ground black pepper
Directions
For the pork, in a small bowl, stir together the salt, garlic powder, black pepper, red pepper flakes, and celery seeds. Using your fingers, rub the spice mixture all over the pork to coat evenly. Place pork in a large resealable plastic bag or a covered bowl; refrigerate overnight.
For the basting sauce, in a large saucepan, combine all the sauce ingredients, stirring to dissolve the sugar. Bring to a simmer over medium heat; simmer for 3 minutes. Let sauce cool; cover and refrigerate overnight.
Preheat oven to 300°F. Place a rack inside a large roasting pan; place the pork on the rack. Roast for 2 1/2 hours; pour half of the sauce over the pork. Bake for 1 to 2 hours more or until an instant-read thermometer inserted in the thickest part of the roast registers 180°F, basting pork every 30 minutes with sauce and drippings from the bottom of the pan.
Remove pork from the oven and let stand on the rack until cool enough to handle. Meanwhile, warm the remaining sauce in a saucepan over low heat. Transfer the warm pork to a cutting board and shred or chop the meat into bite-size pieces, mixing in some of the fat and skin. Transfer pork to a large bowl; add sauce to taste and mix well.
Serve the pork on buns with Down-Home Coleslaw, passing any remaining sauce on the side.