Lemon Poppyseed Cheesecake Cupcakes
By
Paula Deen
JUMP TO RECIPE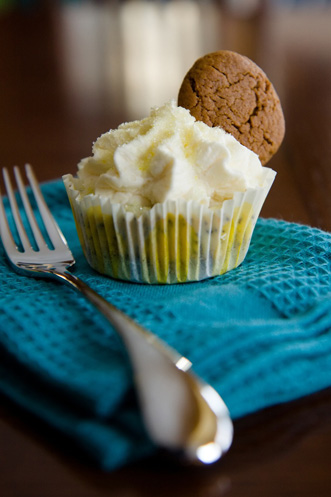 Difficulty: Easy
Prep time: 15 minutes
Cook time: 15 minutes
Servings: 15
Ingredients
3 teaspoons brown sugar
1 1/2 cups crushed, plus more for garnish gingersnaps
6 tablespoons melted unsalted butter
2 (8 oz) packages room temperature cream cheese
1 cup plus 2/3 cup, divided sugar
2 eggs
1 cup sour cream
4 small lemon's worth (approximately 2 tablespoons) lemon zest
1 teaspoon divided ground ginger
2 teaspoons poppy seeds
1 cup heavy whipping cream
Directions
For the Gingersnap Crust:
Preheat oven to 350º.
Mix brown sugar, crushed gingersnaps and butter together in a small bowl until they begin to stick together.
Divide the mixture evenly between 18 cupcake liners, pressing down to make sure it is smooth and solidly packed.
Bake for 10 minutes.
For the Cheesecakes:
Preheat oven to 325º.
Mix cream cheese and 1 cup sugar until integrated.
Mix in eggs, one at a time.
Mix in sour cream.
Add zest, 1/2 teaspoon ginger and poppy seeds.
Spoon mixture over pre-baked crusts.
Bake for 30 minutes.
Remove cheesecakes from oven and allow to come to room temperature.
Place in the refrigerator to chill.
For the Ginger Whipped Cream Frosting:
Beat the whipped cream until frothy, Gradually add 2/3 cup sugar and then 1/2 teaspoon ginger. Beat until soft peaks form and spread on cupcakes.