Naughty Grinch Bread
By
Paula Deen
JUMP TO RECIPE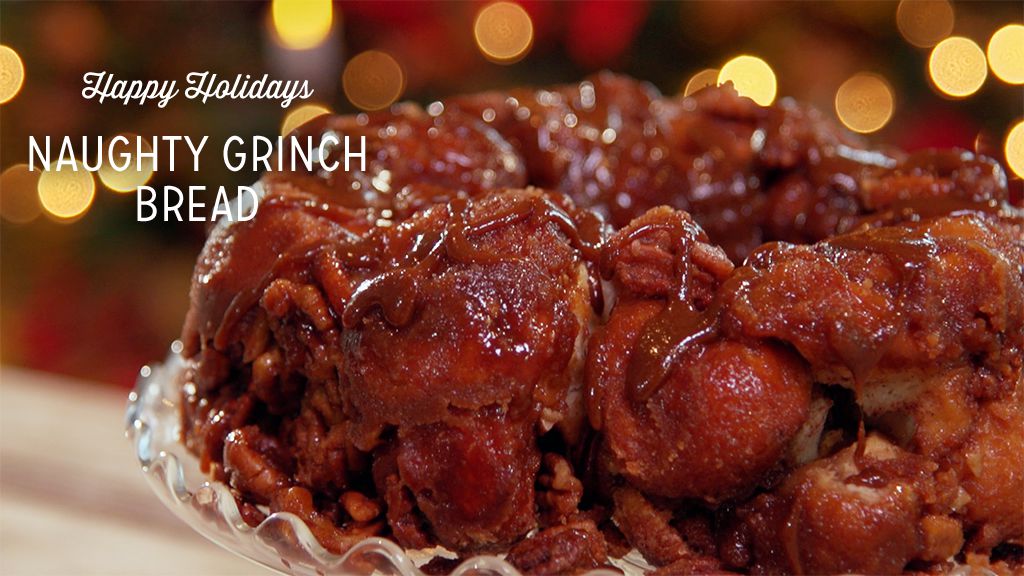 Difficulty: Easy
Prep time: 20 minutes
Cook time: 35 minutes
Servings: 12
Ingredients
1 1/4 cups granulated sugar
1 1/2 tablespoons cinnamon
1/2 cup butter
1 cup dark brown sugar, packed
1 (8 oz) package cream cheese, cut into 20 equal cubes
2 cans (7 1/2 oz) refrigerated biscuits
1 1/2 cups pecans, coarsely chopped
Directions
Preheat oven to 350º. Grease a Bundt pan with non-stick cooking spray.
In a small bowl, mix together granulated sugar and cinnamon.
In a small saucepan over low heat, add butter and dark brown sugar, let melt and stir together until combined. Remove from heat.
Remove the biscuits from the cans.
Cut the cream cheese into 20 equal in size cubes. Press the biscuits out using your fingers. Sprinkle each biscuit with ½ teaspoon cinnamon sugar. Place 1 cube cream cheese in the center of each biscuit, wrapping and sealing the dough around the cream cheese.
Sprinkle ½ cup chopped pecans into the bottom of the Bundt pan. Place half of the prepared biscuits in the pan. Sprinkle with cinnamon sugar. Pour½ melted butter mixture over the biscuits and sprinkle on ½ cup chopped pecans. Layer the remaining biscuits on top. Sprinkle with remaining cinnamon sugar mixture, remaining melted butter and sugar mixture and remaining chopped pecans.
Bake for 30 minutes. Remove from oven. Let cool 5 minutes before serving. Place on a serving plate and invert.