Low-Sugar Banana Pudding
By
Paula Deen
JUMP TO RECIPE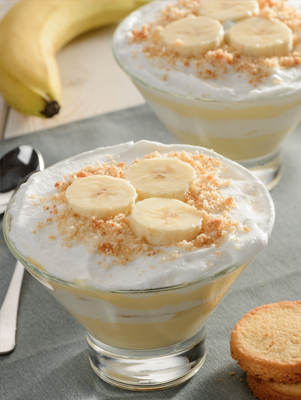 Difficulty: Easy
Prep time: 30 minutes
Cook time: 10 minutes
Servings: 8-10
Ingredients
1 (12 oz) box sugar-free shortbread
2 medium bananas
1/2 stick butter
1 teaspoon vanilla extract
3 cups whole or skim milk
4 egg yolks
3 tablespoons cornstarch
1 cup artificial sweetner
Directions
Mix together the artificial sweetener and cornstarch and slowly add milk. Add to heat, stirring constantly until it thickens—do not leave it unattended. Ideally, this should cook in the top of a double boiler, but you can cook it over low to medium heat, instead.
Slightly beat egg yolks and temper with a small amount of the hot custard; stir well. Add egg mixture to custard pot and cook 2 more minutes. Remove from heat and add vanilla and butter. Let cool.
In a 9×9-inch baking dish, alternate pudding, bananas and wafers, beginning with pudding and ending with pudding.