Chilly Banana Pudding
By
Deen Brothers
JUMP TO RECIPE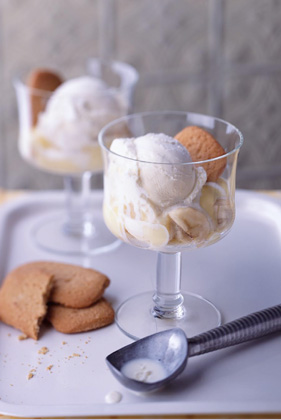 Featured in:
The Deen Bros. Recipes from the Road
Difficulty: Easy
Prep time: 5 minutes
Cook time: 10 minutes (2 hours in refrigerator)
Servings: 4
Ingredients
1/2 cup sugar
3 tablespoons cornstarch
2 cups whole milk
3 egg yolks
1 teaspoon vanilla
1 teaspoon rum optional
2 ripe bananas
Coconut sorbet
Directions
In a saucepan, whisk together sugar and cornstarch. Slowly add milk. Bring to a boil, whisking constantly. Reduce heat to medium. Cook 5 minutes or until thickened; stir constantly. Remove from heat.
Beat egg yolks until smooth. Whisking constantly, slowly add hot milk mixture (be careful not to curdle eggs). Return egg mixture to saucepan; cook over medium-low heat for 5 to 7 minutes or until thick, stirring constantly. Remove from heat; add vanilla and, if desired, rum.
Divide banana slices among four 12-ounce glasses. Spoon pudding over top. Chill for 2 hours or until set. Serve with sorbet.