Bobby's Not My Mama's Banana Pudding
By
Bobby Deen
JUMP TO RECIPE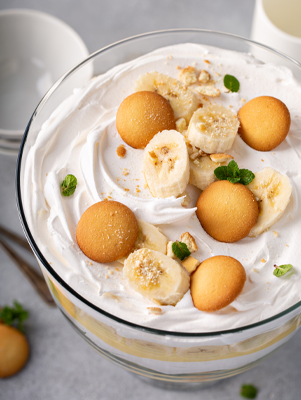 Featured in:
From Mama's Table to Mine
Difficulty: Medium
Prep time: 20 minutes
Cook time: 10 minutes
Servings: 10
Ingredients
2½ cups 1% milk
½ cup sugar
2 tablespoons cornstarch
2 large eggs
¼ teaspoon salt
1 tablespoon unsalted butter
1 teaspoon pure vanilla extract
3 medium ripe bananas, sliced
35 reduced-fat vanilla wafers
¾ cup fat-free whipped topping (or use light; optional), thawed, for serving
Directions
In a medium saucepan, combine the milk and ¼ cup of the sugar over medium-high heat. Bring to a simmer, but do not boil.
In a medium bowl, whisk together the remaining ¼ cup sugar, the cornstarch, eggs, and salt. Whisking constantly, slowly pour the hot milk mixture into the cold mixture. Return the mixture to the saucepan. Cook gently over medium-low heat, stirring constantly, until it is thick and bubbly. Again, be sure not to let the mixture come to a boil. Remove from the heat and stir in the butter and vanilla. Cool completely to room temperature, then chill, covered with plastic wrap, for 1 hour or overnight.
In a 9-inch square baking pan, alternate the pudding, bananas, and wafers, beginning with pudding and ending with pudding. Serve with dollops of whipped topping, if you like.