Bobby's Red Velvet Cupcakes
By
Deen Brothers
JUMP TO RECIPE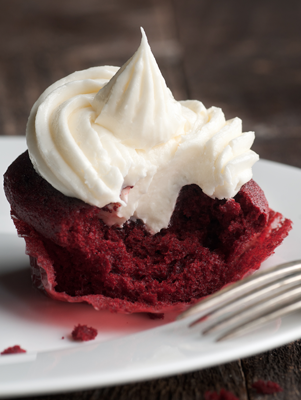 Difficulty: Easy
Prep time: 25 min
Cook time: 20 min
Servings: 12
Ingredients
6 small roasted beets
1/4 cup canola oil
3/4 cup low-fat buttermilk
1 stick unsalted butter
1 teaspoon almond extract
1 teaspoon vanilla extract
4 large eggs
2 1/2 cups cake flour
1 1/2 cups raw granulated sugar
3/4 cup unsweetened cocoa powder not Dutch processed
1 1/2 teaspoons baking powder
1/2 teaspoon baking soda
1/2 teaspoon salt
One 8-ounce package reduced-fat cream cheese
1 1/4 cups confectioners' sugar
1/4 cup reduced-fat sour cream
Zest of 1 orange
1/4 cup toasted chopped pecans
1/4 cup toasted coconut
Directions
For the cupcakes: Preheat the oven to 350 degrees F. Line a cupcake pan with liners, or spray with nonstick baking spray.
Add the roasted beets and oil into a blender or food processor. Turn to the highest setting and puree until the mixture becomes a thick liquid. Add the buttermilk, butter, almond extract, vanilla extract and eggs and pulse to combine.
In a separate bowl, whisk the flour, sugar, cocoa, baking powder, baking soda and salt together until well incorporated.
Add the dry mixture to the wet mixture and pulse until there are no lumps and the two are combined. Spoon the batter into the prepared cupcake pan and place into the oven until a toothpick inserted into the center comes out clean, 15 to 20 minutes. Remove from the oven and cool completely in the pan on a rack.
For the frosting: With an electric mixer on high speed, beat the cream cheese in a medium bowl until very smooth, 2 to 3 minutes. On low speed, beat in the confectioners' sugar, sour cream, and some of the orange zest until blended, 1 to 2 minutes.
Frost each cupcake with about 2 tablespoons of the frosting and garnish with pecans, coconut, and reserved orange zest.