Banana Pudding With Meringue
By
Paula Deen
JUMP TO RECIPE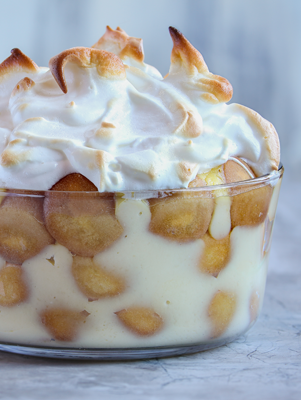 Difficulty: Easy
Prep time: 10minutes
Cook time: 45 minutes
Servings: 6-8
Ingredients
1 12 (oz) box vanilla wafers
3 medium sliced bananas
1/2 stick butter
1 teaspoon vanilla extract
3 cup milk
4 egg yolks
2 tablespoons cornstarch
3 egg whites
1/4 teaspoon cream of tartar
1 cup divided granulated sugar
Directions
Mix together 3/4 cup sugar and cornstarch and slowly add milk. This should be cooked in the top of a double boiler, but you can cook it over low to medium heat, stirring constantly until it thickens–do not leave it unattended. Slightly beat egg yolks and temper with a small amount of the hot custard; stir well. Add egg mixture to custard pot and cook 2 more minutes. Remove from heat and add vanilla and butter. Let cool. In a 9 by 9-inch ovenproof baking dish, alternate pudding, bananas, and wafers, beginning with pudding and ending with pudding. Add topping, if desired.
For the meringue topping, if using:
Preheat oven to 350 °F. Beat egg whites and cream of tartar until soft peaks form. Gradually add 1/4 cup sugar until stiff peaks form, then spread onto top of pudding mixture. Bake until golden brown.