Lemon Meringue Pie
By
Paula Deen
JUMP TO RECIPE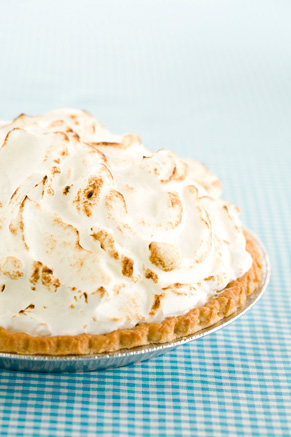 Difficulty: Easy
Prep time: 10 minutes
Cook time: 10 minutes
Servings: 10
Ingredients
1 (8 inch) or crumb crust pre-baked pie shell
3 egg yolks
1 teaspoon grated lemon zest
1/2 cup lemon juice
1 (14 oz) can sweetened condensed milk
3 egg whites
1/4 teaspoon cream of tartar
1/4 cup sugar
Directions
In medium bowl, combine milk, lemon juice and zest; blend in egg yolks. Pour into cooled crust.
Preheat oven to 325 °F.
Meringue:
Beat egg whites with cream of tartar until soft peaks form. Gradually beat in the sugar until stiff. Spread over filling; seal to edge of crust. Bake for 12 to 15 minutes or until meringue is golden brown.