Individual Lemon Meringue Pies
By
Paula Deen
JUMP TO RECIPE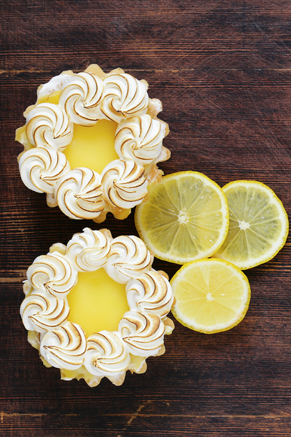 Difficulty: Medium
Prep time: 25 minutes
Cook time: 12 minutes
Servings: 6
Ingredients
1 (14-oz) can sweetened condensed milk
1/2 cup lemon juice
1 teaspoon lemon zest, grated
3 egg yolks
6 store-bought mini graham cracker pie crusts
3 egg whites
1/4 teaspoon cream of tartar
1/4 cup sugar
Directions
Preheat oven at 325 °F.
In medium bowl, combine milk, lemon juice and zest; blend in egg yolks. Divide among the mini pie crusts. Bake for 10 to 12 minutes until the filling is just set, it can still be wobbly in the center when shaken.
With an electric mixer, beat egg whites with cream of tartar until soft peaks form. Gradually beat in the sugar until stiff. Transfer the meringue to a piping bag fitted with a medium star tip. Pipe stars of meringue all over the surface of each pie. With a blow torch, carefully brown the meringue on top of the pies.