Strawberry Margarita Mousse
By
Paula Deen
JUMP TO RECIPE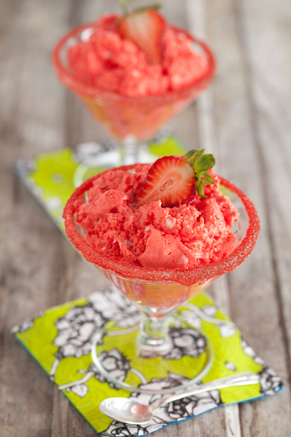 Difficulty: Medium
Prep time: 30 minutes
Cook time: 30 minutes
Servings: 30
Ingredients
4 separated eggs
for garnish red sanding sugar
3/4 cup sugar
1 (3 oz) box strawberry flavored gelatin
1/4 teaspoon salt
1/4 cup fresh lemon juice
1/4 cup fresh lime juice
1/4 cup limeade
1/4 cup fresh orange juice
3 tablespoons red food coloring
1 teaspoon grated lime zest
3/4 teaspoon cream of tartar
1 cup whipped until stiff heavy cream
1 cup small diced, plus slices for garnish strawberries
Directions
Beat the egg yolks in a bowl until light.
In a medium saucepan, stir together 1/4 cup of the sugar, gelatin and salt. Stir in the beaten egg yolks, lemon juice, lime juice, limeade, orange juice and turn the heat onto medium. Gently stir the mixture over the heat until the sugar, salt and gelatin have dissolved completely. Remove from heat and transfer to a large mixing bowl. Cool to room temperature, stir in the food coloring and lime zest and then place in the refrigerator to chill. Stir the mixture occasionally until it begins to set, about 30 minutes.
Meanwhile, with an electric mixer, beat the egg whites and cream of tartar until foamy. Gradually add the remaining 1/2 cup sugar to the whites, beating constantly, until stiff and glossy.
Remove the gelled mixture from the refrigerator and fold in the diced strawberries. Next, add the meringue and whipped cream and thoroughly fold everything together. Chill in the refrigerator for 1 hour.
Pour the red sanding sugar out into a shallow bowl or pie plate, at least 1/4-inch high. Dampen a thick paper towel, folded in quarters, with water. Press the rims of 6 (8 oz) margarita glasses onto the wet paper towel and then lightly dip them into the sanding sugar.
Divide the mousse into the margarita glasses with a spoon. Garnish the tops of each mousse glass with freshly sliced strawberries and mint leaves.