Bobby's Lighter Strawberry Pretzel Salad
By
Bobby Deen
JUMP TO RECIPE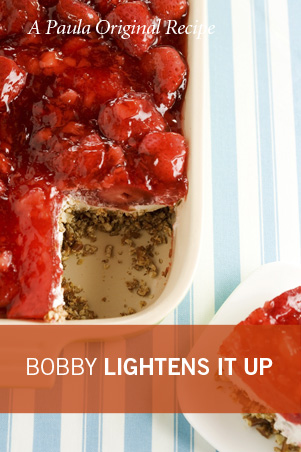 Difficulty: Easy
Prep time: 20 minutes
Cook time: 20 minutes
Servings: 20
Ingredients
1 1/2 cups crushed (about 15 pretzel rods) unsalted pretzels
4 tablespoons melted butter
2 tablespoons applesauce
1 cup plus 2 tablespoons, divided granulated sugar
1 (8 oz) package reduced-fat cream cheese
1 cup reduced-fat nondairy whipped topping
2 cups boiling water
2 (0.30 oz) packages sugar-free strawberry gelatin
2 cups cold water
1 cup fresh sliced strawberries
1 (8 oz) can drained crushed pineapple
Directions
Preheat oven to 400 °F. Spray a 9 x 13-inch baking pan with nonstick spray.
Combine the pretzels, melted butter, applesauce and 2 tablespoons sugar in a medium bowl until blended. Press the mixture into the pan. Bake until just set, 5–7 minutes. Transfer to wire rack to cool completely, about 20 minutes.
Meanwhile, beat the cream cheese and the remaining 1/4 cup of sugar in a large bowl with a hand mixer on medium speed until smooth. Fold in the whipped topping. Spread the filling over the cooled crust. Refrigerate until well chilled, 30–40 minutes.
Pour the boiling water over the gelatin in a medium bowl, stirring until the gelatin dissolves completely, 1–2 minutes. Stir in the cold water until blended. Add the strawberries and crushed pineapple, stirring to combine well. Pour the gelatin mixture over the cream cheese mixture. Refrigerate until set, 3–4 hours.
Bobby's Tip:
An easy way to crush the pretzels is to place them in a food storage bag and crush them lightly with a rolling pin (or baseball bat) until the pretzels are finely crushed.