Bobby's Lighter Simply Delicious Strawberry Cake
By
Bobby Deen
JUMP TO RECIPE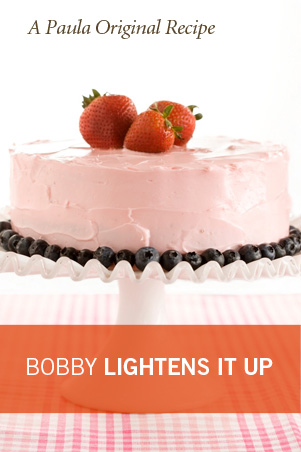 Difficulty: Medium
Prep time: 20 minutes
Cook time: 20 minutes
Servings: 20
Ingredients
1 cup sliced, plus some for garnish fresh strawberries
1/4 cup plus 3 tablespoons, divided sugar-free strawberry jam
1 (18.25 oz) box white cake mix
1 (0.30 oz) package sugar-free strawberry gelatin
3 large egg whites
1/3 cup vegetable oil
1/4 cup water
1 (8 oz) package at room temperature reduced-fat cream cheese
4 tablespoons softened butter
1 teaspoon strawberry extract
3 cups confectioner's sugar
Directions
Preheat the oven to 350º degrees. Spray two 9-inch round cake pans with nonstick spray. Line with wax-paper rounds; spray with nonstick spray.
Puree the strawberries and 3 tablespoons of jam in a food processor. Set aside.
Combine the cake mix and gelatin in a large mixing bowl. Beat in the strawberry puree, egg whites, oil and water with hand mixer at medium speed until thickened, about 2 minutes.
Divide the batter evenly between the pans. Bake until a wooden pick inserted in the center comes out clean, about 20 minutes. Let cool in pans 10 minutes. Invert the layers onto racks and remove the wax paper; let cool completely.
For the frosting: With clean beaters, beat the cream cheese and butter in a medium bowl with a hand mixer until creamy, about 2 minutes. Beat in the 1/4 cup of jam and the strawberry extract. Gradually add the confectioner's sugar, beating until smooth.
Place 1 cake layer on a serving plate. Spread 1/3 of the frosting over the cake layer. Top with the remaining layer. Spread the remaining frosting over the top and sides of the cake. Garnish with the strawberries, if using.