Bobby's Lighter Blueberry Muffins
By
Deen Brothers
JUMP TO RECIPE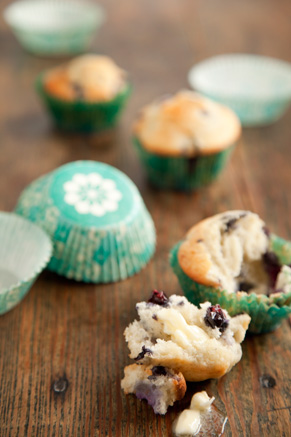 Difficulty: Easy
Prep time: 10 min
Cook time: 20 min
Servings: 12
Ingredients
1 3/4 cups all-purpose flour
2/3 cup sugar
1 1/2 teaspoons baking powder
1/2 teaspoon baking soda
1/2 teaspoon salt
4 tablespoons cold butter
1/2 cup fat-free milk
1/2 cup low-fat 2% Greek-style yogurt
1 large egg
1 tablespoon grated lemon zest about 2 lemons
1 cup fresh
Directions
Preheat oven to 400°F. Spray a 12-cup muffin tin with nonstick spray or line with paper liners.
Combine the flour, sugar, baking powder, baking soda, and salt in a large bowl. Cut in the butter until the mixture is crumbly.
Whisk the milk, yogurt, egg, and lemon zest in a large bowl. Add the milk mixture to the flour mixture until just blended. Stir in the blueberries.
Spoon the batter into the muffin cups, filling each about two-thirds full. Bake until the muffins are golden and a toothpick inserted into the center comes out clean, about 20 minutes. Cool in the pan on a rack. Remove the muffins from the pan and cool completely on the rack.
Test Kitchen Tip:
If using frozen blueberries, there is no need to thaw first. Simply stir the frozen berries right into the batter.