Bobby's Lighter Blueberry Tart
By
Bobby Deen
JUMP TO RECIPE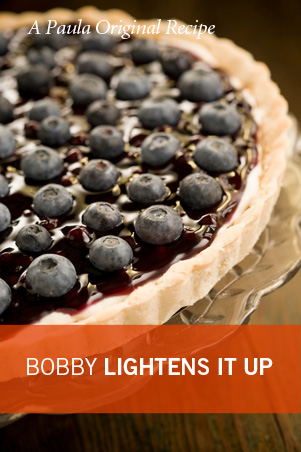 Difficulty: Easy
Prep time: 10 minutes
Cook time: 8 minutes
Servings: 8
Ingredients
1 cup all purpose flour
1/4 cup toasted walnuts
7 tablespoons divided confectioner's sugar
1/4 teaspoon salt
3 tablespoons canola oil
1 tablespoon cold, cut into pieces butter
3 tablespoons (up to 4 tablespoons) ice water
1 teaspoon cider vinegar
1/4 cup reduced-fat Greek yogurt
1 (8 oz) package Neufchatel cheese
2 cups blueberries
Directions
Preheat oven to 400 °F.
To make the crust, put the flour, walnuts, 1 tablespoon sugar, and salt in a food processor; pulse until the nuts are finely ground. Add the oil and butter; pulse until the mixture resembles coarse crumbs. Combine the water and vinegar in a small bowl. Pour through the feed tube, pulsing just until the dough comes together. Shape into a disk. On a lightly floured surface, roll out the dough to a 12-inch round; ease the dough into a 9-inch tart pan with a removable bottom, pressing the dough against the side of the pan. Prick the dough with a fork. Roll a rolling pin over the rim of the pan to cut off the excess dough.
Line the tart shell with a piece of foil; fill with dried beans or rice. Bake until set, about 20 minutes; remove the foil with the beans. Bake until golden, 10–12 minutes longer. Place the tart pan on a rack and let cool completely.
Meanwhile, to make the filling, beat the cream cheese in a medium bowl with an electric mixer on medium-high speed until very smooth. Beat in the yogurt and 6 tablespoons sugar until blended. Spoon the filling into the cooled crust. Sprinkle the blueberries over top. Refrigerate until well chilled, at least 2 hours.