Kentucky Colonel Barbecue Pork Chops
By
Paula Deen
JUMP TO RECIPE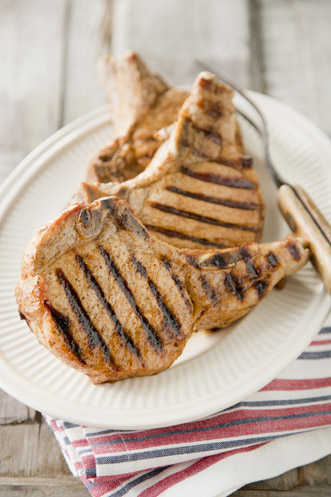 Difficulty: Easy
Prep time: 30 minutes
Cook time: 10 minutes
Servings: 10
Ingredients
2 teaspoons chili powder
1 teaspoon dry mustard
2 teaspoons Worcestershire sauce
2 teaspoons black pepper
1/4 onion, chopped (or 2 tablespoons onion powder)
2 teaspoons salt
1/4 cup vinegar
2 tablespoons oil
2 tablespoons brown sugar
2 cups water
1/2 teaspoon Paula Deen Hot Sauce
1/2 teaspoon red pepper
1 clove garlic (or 1 tablespoon garlic powder)
10 (1-in thick) pork chops
Directions
Combine all ingredients except for the pork chops and bring to a rolling boil. Remove from the heat and cool. Refrigerate sauce overnight to blend flavors.
Heat a grill to medium-high heat.
Apply sauce to chops with dish mop or paint brush. Grill to desired doneness, about 5 minutes per side for medium-well. Baste with sauce each time they are turned.
This recipe was provided by professional chefs and has been scaled down from a bulk recipe provided by a restaurant. We have not tested this recipe, in the proportions indicated, and therefore, we cannot make any representation as to the results.