Kardea's Charleston Shrimp and Grits
By
Kardea Brown
JUMP TO RECIPE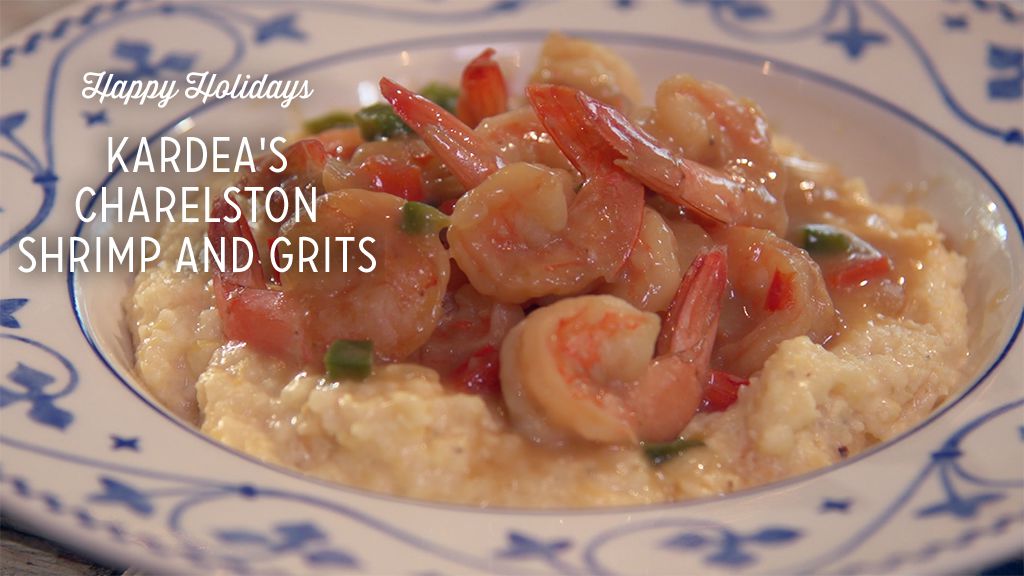 Difficulty: Medium
Prep time: 15 minutes
Cook time: 50 minutes
Servings: 4
Ingredients
1 cup old-fashioned coarsely ground grits
1/2 cup milk
2 teaspoons salt
1 cup cheddar cheese, shredded
1/4 cup butter
1 lb uncooked shrimp, peeled, deveined, and butterflied
2 teaspoons seasoning salt, mixed with black pepper
3 slices bacon
1/2 green bell pepper, chopped
1/2 red bell pepper, chopped
1/2 onion, chopped
1 teaspoon garlic, minced
1/4 cup all purpose flour
1/2 to 2 cups water
3 tablespoons soy sauce
olive oil
Directions
beauty shot
Bring 3 cups milk, grits and salt to a boil in a heavy saucepan with a lid. Stir and simmer until grits are thickened and tender, 15 to 20 minutes. Stir in cheese, ¼ cup milk and butter and set aside and keep warm.
Sprinkle shrimp with seasoning salt, garlic powder and black pepper. Set aside in a bowl, dust with flour.
Cut bacon slices in half slices and place in a large skillet over medium-high heat, turning occasionally, until evenly browned, about 10 minutes. Retain bacon and drippings in skillet.
Add green and red peppers, onion and minced garlic to the frying pan with bacon and drippings. Add uncooked shrimp dusted with a little flour, cook for about 3-4 minutes on medium heat until veggies are tender and shrimp have turned slightly pink.
Mix flour and water together in a separate cup then pour mixture into the skillet with shrimp, bacon and vegetables. Place the skillet down to low heat, add dashes of soy sauce (adds brown color and flavor), stir until the gravy slightly thickens and the shrimp become opaque and bright pink, about 5-6 minutes. Taste gravy add salt and pepper if needed.
Serve hot shrimp mixture over grits.