Shrimp and Grits
By
Paula Deen
JUMP TO RECIPE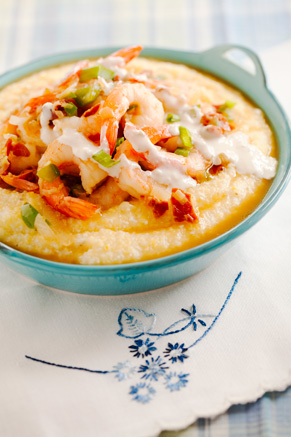 Difficulty: Easy
Prep time: 10 minutes
Cook time: 10 minutes
Servings: 10
Ingredients
2 servings cooked grits
2 tablespoons olive oil
1/2 cup diced tasso ham
2 tablespoons diced leeks
2 tablespoons diced onion
2 tablespoons diced green pepper
20 medium to large peeled and de-veined, with tails on shrimp
1 tablespoon white wine
1 cup heavy cream
tops, chopped green onion
to taste salt
to taste black pepper
Directions
*Cooking Note: Tasso is a Cajun ham and is often hard to find outside of Louisiana, but you can find it at some specialty gourmet shops or by mail order. If not, you can substitute salt pork, pancetta, or prosciutto, but you will have to beef up your seasonings, as tasso is very flavorful.
Cook grits according to package directions; set aside and keep warm.
Heat oil in a large skillet over medium-high heat. Add tasso and sauté until crisp. Add diced vegetables and sauté until onions are translucent. Add shrimp and sauté for 30 to 45 seconds, or until pink. Remove from the pan and set aside. Deglaze the pan with a little white wine. Slowly add the cream and let reduce until thickened. Season with salt and pepper, to taste.
Divide grits among 2 serving plates. Line plate edges with shrimp (10 shrimp per serving). Pour sauce over grits. Garnish with green onion tops.
For a great wedding idea, use martini glasses to serve shrimp and grits, with the grits on the bottom and shrimp and sauce on top.