Cheesy Shrimp on Grits Toast
By
Paula Deen
JUMP TO RECIPE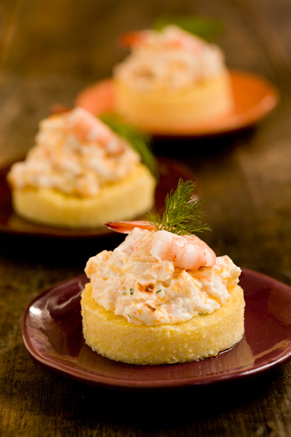 Difficulty: Easy
Prep time: 10 minutes
Cook time: 1 hour 10 minutes
Servings: 48 rounds
Ingredients
3 (14 oz) cans chicken stock
1 1/3 cups quick cooking grits
1/2 cup grated Parmesan cheese
1/2 teaspoon salt
2 tablespoons melted butter
1 (8 oz) package softened cream cheese
1 tablespoon half and half
1/2 cup italian cheese blend
1 teaspoon parsley
1/2 lb peeled, deveined, fully cooked and chopped shrimp
1/2 cup grated cheddar cheese
Directions
Bring broth to a boil in a large saucepan. Stir in grits, and return to a boil. Cover, reduce heat, and simmer 5 minutes, or until grits are thickened, stirring occasionally. Stir in Parmesan cheese and salt. Remove from heat. Spoon grits into a greased 9×13-inch baking pan. Cover, and chill at least 2 hours, or until firm.
Preheat Oven to 400º.
Un-mold grits onto a large cutting board. Cut out 48 (1 1/2-inch) circles using a round or fluted cookie cutter. Brush a large jellyroll pan with melted butter. Place grits rounds on pan. Bake for 15 minutes. Turn grits, and bake 15 minutes more. Set aside. (Up to this point, the recipe can be prepared ahead. If preparing early, cover and refrigerate grit rounds until you are ready to top with shrimp mixture.)
In a large bowl, combine cream cheese and half and half, stirring until combined. Stir in Italian cheese blend, parsley and shrimp. Top each grits round evenly with shrimp mixture. Top mixture with grated cheddar cheese. Broil 5 minutes, or until lightly browned and heated through. Makes 48 rounds.