Crab Cakes with Lemon-Dill Sauce
By
Paula Deen
JUMP TO RECIPE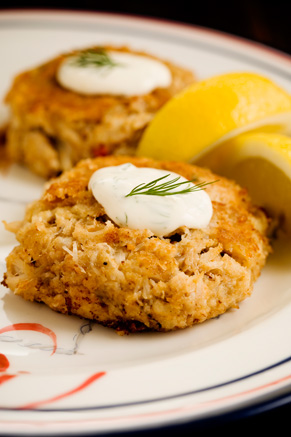 Difficulty: Medium
Prep time: 15 minutes
Cook time: 15 minutes
Servings: 15
Ingredients
2 tablespoons finely chopped red bell pepper
1/4 cup grated Parmesan cheese
2 tablespoons vegetable oil
1 lb picked free of any bits of shell white or claw crabmeat
1/2 teaspoon minced, plus 1 tablespoon chopped for sauce fresh parsley
1 egg
1 cup breadcrumbs
2 cloves minced and divided garlic
3 tablespoons heavy cream
1 tablespoon dijon mustard
1 finely chopped green onion
3 tablespoons butter
1 cup mayonnaise
1/4 cup buttermilk
2 tablespoons chopped fresh dill
1 tablespoon grated lemon zest
2 teaspoons fresh lemon juice
Directions
To make the sauce, combine mayo, buttermilk, dill, 1 tablespoon parsley, lemon zest and juice and 1 garlic clove in a bowl and stir well. Refrigerate until chilled. The sauce will thicken as it chills.
To prepare the crab cakes, melt 1 tablespoon of butter in a heavy skillet over medium heat. Sauté the onion, bell pepper and 1 clove garlic until the pepper is limp, approximately 3 minutes. Add the cream, mustard, 1 egg, 1/2 teaspoon parsley, cayenne pepper and 1/2 cup bread crumbs, to taste, and mix well. Gently fold in the crabmeat.
Form the mixture into 8 patties, about 1/2-inch thick. In a mixing bowl, combine the remaining 1/2 cup of bread crumbs with the Parmesan. Pat this topping onto both sides of the patties. Refrigerate until firm, about 2 hours.
Using a skillet, combine the oil and remaining 2 tablespoons of butter. Sauté the crab cakes in the hot oil-butter mixture for approximately 3 minutes on each side or until golden brown. These crab cakes can also be baked for 7 to 10 minutes in a 400 °F oven.
To serve, spoon a dollop of the lemon dill sauce along side each crab cake.