The Deen Bros. Lighter Crab Cakes
By
Deen Brothers
JUMP TO RECIPE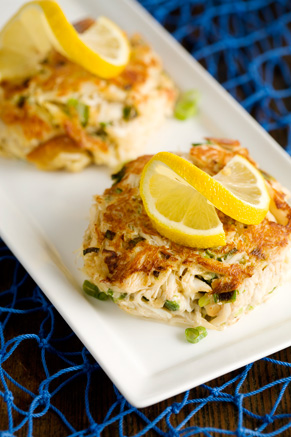 Difficulty: Easy
Prep time: 20 min
Cook time: 6 min
Servings: 4
Ingredients
1 pound jumbo lump crabmeat
3 tablespoons diced pimientos
3 scallions
1/2 cup plus 2 tablespoons Italian-style whole-wheat bread crumbs
1/4 cup light mayonnaise
1 tablespoon Dijon mustard
1 tablespoon lemon juice
1 egg white
1/2 teaspoon Paula Deen House Seasoning
1/4 teaspoon hot sauce
2 teaspoons canola oil
1/4 cup light mayonnaise
2 tablespoons sweet pickle relish
1 tablespoon chopped fresh dill
1 tablespoon grated lemon zest
2 teaspoons lemon juice
2 teaspoons Dijon mustard
1 garlic clove
Directions
To make the crab cakes, combine the crabmeat, pimientos, scallions, 1/4 cup bread crumbs, mayonnaise, mustard, lemon juice, egg white, seasoning, and hot sauce in a large bowl until blended. Form into 8 equal patties.
Place the remaining bread crumbs on a sheet of waxed paper. Dredge the patties in the crumbs; transfer to a plate; refrigerate, covered, 20 minutes.
Heat the oil in a large nonstick skillet over medium-high heat. Add the patties and cook until crisp and golden, 3 to 4 minutes. Turn and cook 2 to 3 minutes longer.
Meanwhile, to prepare the Lemon-Dill Sauce, whisk together the mayonnaise, relish, dill, lemon zest, lemon juice, mustard, and garlic in a small bowl until blended. Serve with the crab cakes.