Heirloom Tomato Pie
By
Paula Deen
JUMP TO RECIPE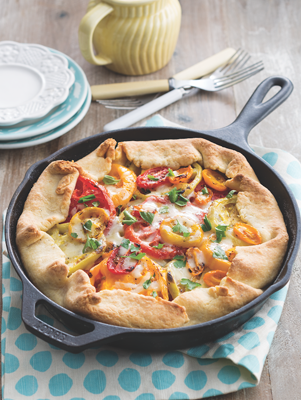 Featured in:
At the Southern Table
Paula Deen's Heirloom Tomato Pie recipe is a wonderful summer recipe that highlights fresh tomatoes in a great tomato pie.
Get your copy of At the Southern Table with Paula Deen here.
Difficulty: Medium
Prep time: 75 minutes
Cook time: 35 minutes
Servings: 1 (10-inch) pie
Ingredients
1 1/2 cups all-purpose flour
1/3 cup plus 1 tablespoon plain cornmeal , divided
3 1/2 teaspoons Kosher salt , divided
3/4 cup cold unsalted butter , cubed
6 to 8 tablespoons cold whole buttermilk
8 medium assorted heirloom tomatoes , sliced 1/4-inch thick (about 3 pounds)
1/2 cup halved assorted heirloom tomatoes
3/4 cup shredded sharp white cheddar cheese
2/3 cup mayonnaise
1 tablespoon chopped fresh thyme
1 tablespoon chopped fresh parsley
1 tablespoon chopped fresh oregano
1/4 teaspoon ground black pepper
2 teaspoons red wine vinegar
Garnish: chopped fresh basil
Directions
In the work bowl of a food processor, pulse together flour 1/2 cup cornmeal, and 1 1/2 teaspoons salt. Add cold butter, pulsing until mixture is crumbly. Gradually add buttermilk, pulsing until a dough forms.
Turn out dough onto a lightly floured surface, and shape into a disk. Wrap tightly in plastic wrap, and refrigerate for at least 30 minutes.
Line a baking sheet with paper towels. Place tomatoes on paper towels; sprinkle with remaining 2 teaspoons salt. Let stand for 30 minutes. Pat dry with paper towels.
Preheat oven to 425˚. Sprinkle remaining 1 tablespoon cornmeal in a 10-inch cast-iron skillet.
On a lightly floured surface, roll dough to a 13-inch circle. Press into bottom and up sides of prepared skillet, letting excess extend over sides of skillet.
In a small bowl, stir together 1/2 cup cheese, mayonnaise, thyme, parsley, oregano, and pepper. Spread onto dough. Layer tomato slices onto filling; top with halved tomatoes, and drizzle with vinegar. Fold excess dough over tomatoes at edges.
Bake until crust is golden brown, about 30 minutes. Sprinkle with remaining 1/4 cup cheese; bake until melted, about 5 minutes more. Let cool on a wire rack for 30 minutes before serving. Garnish with basil, if desired.