Basil Grilled Chicken
By
Paula Deen
JUMP TO RECIPE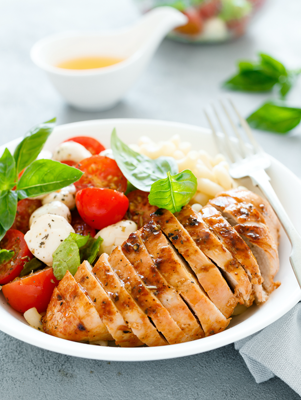 Difficulty: Easy
Prep time: 10 minutes
Cook time: 20 minutes
Servings: 4
Ingredients
3/4 teaspoon coarsely ground black pepper
4 skinned chicken breast halves
1/4 cup chopped, plus 2 tablespoons freshly minced basil leaves fresh basil leaves
1/3 cup melted, plus 1/2 cup butter, at room temperature butter
1 tablespoon grated Parmesan cheese
1/4 teaspoon garlic powder
1/8 teaspoon salt
1/8 teaspoon pepper
Directions
Prepare charcoal grill.
Press the coarsely ground pepper into the meaty side of the chicken breast halves. Stir the chopped basil into the melted butter. Brush the chicken lightly with this mixture. In a small bowl, combine the softened butter, minced basil, Parmesan, garlic powder, salt and pepper. Beat at low speed with an electric mixer until smoothly blended. Transfer to a small serving bowl; set aside.
Grill the chicken over medium coals for 8 to 10 minutes on each side, basting frequently with the remaining melted butter mixture.
Serve the grilled chicken with the basil-butter mixture. Garnish with fresh basil springs, if desired.