Grilled Sausage and Herb-Stuffed Pork Loin
By
Deen Brothers
JUMP TO RECIPE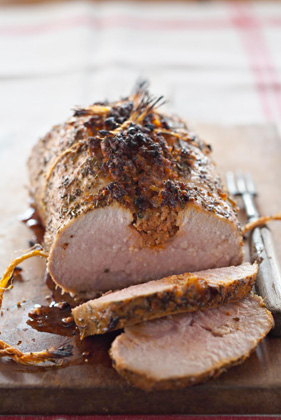 Featured in:
The Deen Bros. Y'all Come Eat
Difficulty: Easy
Servings: 8 to 10
Ingredients
1/4 cup extra virgin olive oil
1 small yellow onion
3 hot
1/2 cup panko bread crumbs
2 tablespoons chopped fresh basil
1 4-pound center-cut boneless pork loin roast
Salt and freshly ground black pepper
2 tablespoons chopped fresh rosemary
2 clove s garlic
Directions
In a large skillet, heat 1 tablespoon of the oil over medium-high heat. Add the onion; cook for 2 minutes, stirring constantly. Crumble the sausage into the skillet and cook until brown, breaking meat up with a fork as it cooks. Stir in the panko and basil; cook for 1 minute more. Let cool, then Þ nely chop the sausage mixture.
Cut a vertical slit down the center of the pork roast, creating a 3-inch-deep pocket and leaving about 1/2 inch uncut at each end. Stuff the sausage mixture into the pocket. Wrap kitchen twine tightly around the roast to enclose the stuffing. Place the roast in a roasting pan and season generously with salt and pepper. In a small bowl, stir together the remaining 3 tablespoons oil, the rosemary, and garlic; coat the roast with herb mixture. Cover roast
with plastic wrap and chill for at least 4 hours or overnight.
Let the roast come to room temperature while you prepare the grill for medium direct heat (alternatively, preheat oven to 500°F). Grill or roast the pork for 25 to 30 minutes or until an instant-read thermometer inserted in the thickest part of the roast registers 145°F, turning the roast every 10 minutes. Transfer roast to a cutting board and let stand for 5 minutes before carving.