Southern Pasta Salad
By
Paula Deen
JUMP TO RECIPE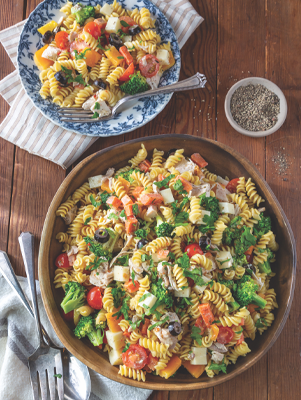 Featured in:
Love & Best Dishes
Difficulty: Easy
Prep time: 20 minutes
Cook time: 10 minutes
Servings: 12 to 16
Ingredients
Dressing
½ cup vegetable oil
1 tablespoon water
1 tablespoon mayonnaise
1 teaspoon sugar
1 (0.06-ounce) package dried Italian seasoning
Salad
4 to 6 quarts water
1 (16-ounce) package rotini pasta
1 cup broccoli florets
1 cup chopped carrots
2 cups chopped cooked chicken
1 cup chopped yellow bell pepper
1 cup grape tomatoes, halved
1 (8-ounce) block whole-milk mozzarella cheese, cubed
¼ cup sliced black olives
chopped parsley, for garnish
Directions
Dressing
In a bowl or dressing shaker, combine oil, water, mayonnaise, sugar, and Italian seasoning.
Salad
In a large stockpot, combine 4 to 6 quarts water bring to a boil over medium-high heat. Add pasta, and cook according to package directions. Add broccoli during final 2 minutes of cooking. Strain. Transfer to a large bowl, and add chicken, bell pepper, tomatoes, cheese, and olives; add dressing, and stir until combined. Refrigerate until ready to serve. Garnish with parsley, if desired.
Cook's Note: Add any and all veggies your family loves. This is a "no-rules" recipe as far as your veggie or protein choices are concerned. Our family loves to add grilled sausage to change it up!