Easy After Work BBQ Chicken
By
Paula Deen
JUMP TO RECIPE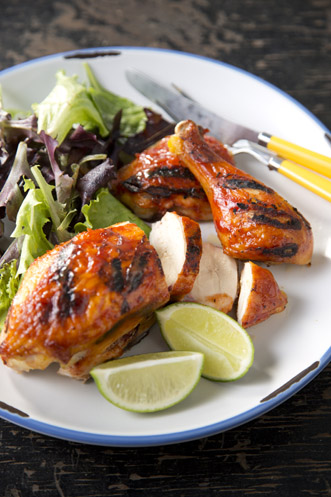 Difficulty: Easy
Prep time: 30 minutes
Cook time: 15 minutes
Servings: 8
Ingredients
Easy BBQ Sauce
3/4 cup ketchup
1/4 cup plus 2 tablespoons dark brown sugar
3 tablespoons white wine vinegar
2 tablespoons onion, minced
2 tablespoons dijon mustard
1/4 to 1 teaspoon Paula Deen Hot Sauce
1/4 teaspoon freshly ground black pepper
3 tablespoons scallions, chopped (white and light green parts only)
1 1/2 teaspoons lime zest, freshly grated
1 1/2 teaspoons lime juice, freshly squeezed
Chicken
1 (3 1/2 lb) chicken, cut into 8 pieces
2 cups barbecue sauce or Easy BBQ sauce (recipe follows)
salt, to taste
black pepper, to taste
lime, cut into wedges, for serving
Directions
Chicken
Prepare a medium-hot grill or preheat the broiler. If using the broiler, line a rimmed baking sheet with aluminum foil.
Season the chicken with salt and pepper, to taste. Put the chicken on the grill or, if broiling, put it on the prepared baking sheet. Grill or broil, 4 inches from the heat, turning once, for 10 minutes per side.
Put 1/2 of the BBQ sauce in a small bowl, for drizzling and serving. Reserve.
Baste the chicken with the remaining sauce and grill or broil for 5 minutes more. Transfer the chicken to a serving platter, drizzle with some of the reserved sauce, and serve with lime wedges and the remaining reserved sauce.
Easy BBQ Sauce
In a small bowl, whisk together the ketchup, brown sugar, vinegar, onion, mustard, hot sauce and black pepper. Stir in the scallions, lime zest and lime juice. Can be covered and refrigerated for up to 1 week.
Yield: 2 cups