All-New Macaroni Salad
By
Paula Deen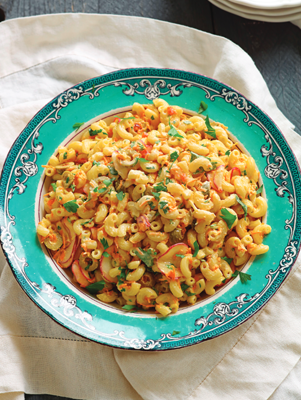 Prep time:

20 minutes

Cook time: 10 minutes
Servings: 12
Ingredients
1 pound elbow macaroni
2 carrots, grated
¾ cup thinly sliced radishes
½ cup sliced pimiento-stuffed olives
½ cup chopped fresh flat-leaf parsley
2 scallions (white and light green parts), thinly sliced
¾ cup regular or light mayonnaise
salt, to taste
freshly ground black pepper, to taste
Directions
In a large pot of boiling salted water, cook the pasta according to the package directions. Drain well and rinse with cold water until the pasta is no longer warm.
In a large bowl, combine the carrots, radishes, olives, parsley, and scallions.
In a small bowl, whisk together the mayonnaise, lemon juice, and salt and pepper to taste. Add the cooled pasta to the vegetables and toss. Pour in the dressing and toss until combined. Serve at room temperature or cold.