Grilled Chicken with Rhubarb Salsa
By
Paula Deen
JUMP TO RECIPE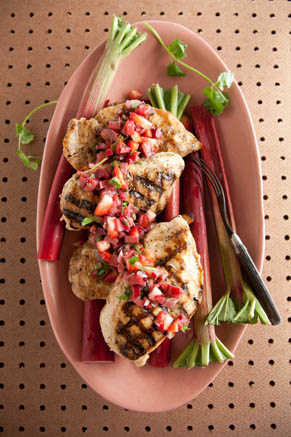 Difficulty: Easy
Ingredients
1 1/2 cups diced rhubarb
1/2 cup stems removed diced strawberries
1 jalapeño seeded and diced
1 juiced lime
2 tablespoons chopped cilantro plus more for garnish
2 tablespoons divided olive oil
4 boneless skinless chicken breasts
Directions
In a medium mixing bowl, toss together the rhubarb, strawberries, jalapeño, lime juice cilantro and 1 tablespoon olive oil. Salt and pepper to taste.
Refrigerate while grilling chicken.
Preheat indoor grill pan, or outdoor grill to medium high heat. Coat chicken with remaining olive oil and salt and pepper liberally. Grill until an internal temperature reaches 165º F when tested with a meat thermometer (approximately 4-6 minutes per side). To serve, top each chicken breast with rhubarb salsa and garnish with fresh cilantro.