Southwest Grilled Chicken With Avocado
By
Paula Deen
JUMP TO RECIPE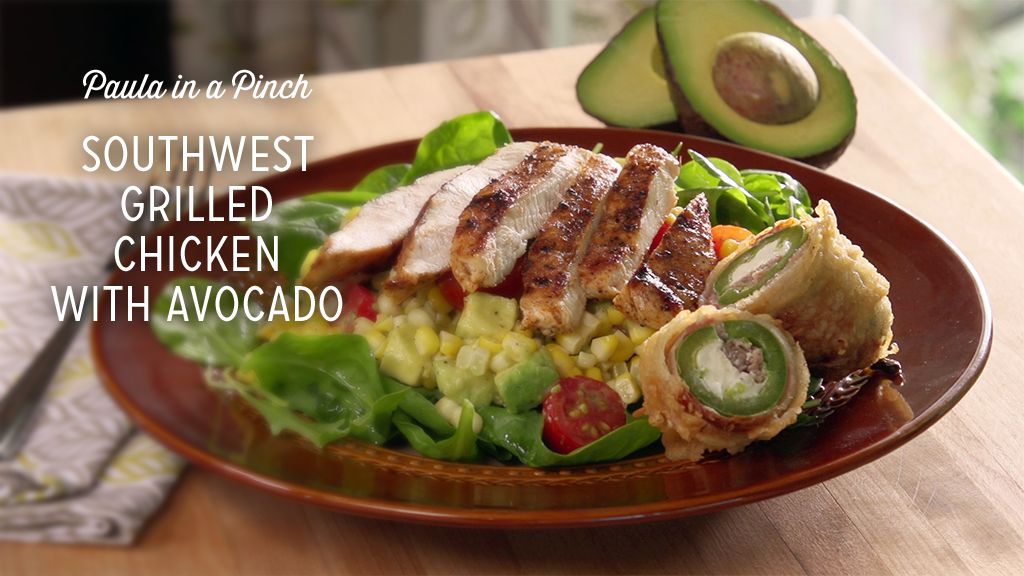 Difficulty: Easy
Prep time: 10 minutes
Cook time: 10 minutes
Servings: 10
Ingredients
3 boneless skinless chicken breasts
1 pinch garlic powder
1 pinch paprika
1 pinch Creole seasoning
2 diced avocados
3 ears shucked corn
3 juiced limes
1 cup halved cherry tomatoes
extra virgin olive oil
2 large handfuls baby spinach
2 large handfuls baby arugula
Directions
Grease and preheat a grill pan to medium-high heat. Boil the corn in salted water for 3 minutes.
Sprinkle both sides of the chicken breast with garlic powder, paprika, Creole seasoning, salt and pepper. Grill the chicken until completely cooked through, about 5 minutes per side. Remove from grill and slice.
Add the corn to the grill pan and cook, rotating often, to char the kernels. Use a sharp knife to remove the corn kernels from the cob and transfer to a medium-sized bowl. Add the avocado, tomatoes and lime juice. Season with olive oil, salt and pepper and toss.
Plate the baby spinach and baby arugula on two dinner plates. Drizzle lightly with olive oil then top with the avocado salad and sliced grilled chicken.