Grilled Boneless Sirloin and Vidalia Onion Skewers
By
Paula Deen
JUMP TO RECIPE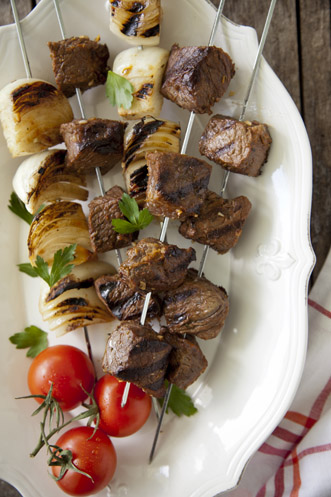 Difficulty: Easy
Ingredients
1/3 cup apple cider vinegar
8 cloves minced garlic
2 tablespoons grated Parmesan
1 juiced lemon
1 teaspoon paprika
1 teaspoon sugar
1 teaspoon Paula Deen's House Seasoning
1/2 teaspoon dried oregano
2 lb trimmed and cut into 2-inch cubes beef sirloin
4 tablespoons (1/2 stick) melted butter
1 teaspoon beef bouillon granules
6 soaked in water for 1 hour bamboo skewers
4 large cut into 2-inch cubes Vidalia onions
Directions
In a shallow dish, whisk together the vinegar, garlic, Parmesan, lemon juice, paprika, sugar, House Seasoning, and oregano. Add the beef cubes and marinate, covered, for 1 hour.
Light the grill or preheat the broiler. In a bowl, add the melted butter and bouillon and stir until the bouillon is completely dissolved.
Skewer the beef and onion cubes separately. Brush the onions with the butter mixture. Put the skewers on the grill, or if broiling, transfer the skewers to a foil-lined baking sheet and broil. Turn once, until the onion is tender and the beef is cooked to the desired doneness, 3 to 5 minutes per side. Arrange on a serving platter and serve.