Empanadas
By
Paula Deen
JUMP TO RECIPE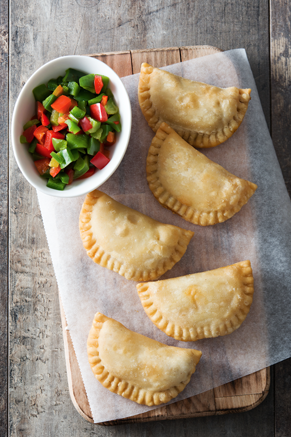 Difficulty: Medium
Prep time: 45 minutes
Cook time: 35 minutes
Servings: 5
Ingredients
Empanada Dough
3 cups all-purpose flour plus more for the work surface
1 tablespoon baking powder
2 teaspoons sugar
1/2 cup shortening or lard
1 egg
3/4 cup chicken stock
Filling
2 tablespoons olive oil
1 lb ground beef
1 tablespoon garlic salt
2 tablespoons tomato paste
2 tablespoons vinegar
2 teaspoons ground cumin
1 teaspoon chili powder
1 teaspoon dried oregano
1 teaspoon seasoned salt
5 cloves garlic, minced
1 green bell pepper, chopped
1 red bell pepper, chopped
1 medium onion, chopped
Aioli Dip
1 cup mayonnaise
1 tablespoon adobo sauce
1/2 lime, juiced
Directions
Empanada Dough
Combine the flour, baking powder, sugar and salt in a large bowl. Cut in the lard with a pastry blender or 2 knives until the mixture resembles coarse cornmeal.
In a separate bowl, beat the egg and then whisk in the stock. Add the egg mixture to the flour mixture and knead until a dough forms. Cover and refrigerate for 30 minutes.
Filling
In a large nonstick skillet, heat 1 tablespoon olive oil over medium heat. Add the ground beef and garlic salt and cook until the beef is cooked completely. Drain the grease and set the beef aside.
In the same pan, heat the remaining 1 tablespoon olive oil. Add the tomato paste, vinegar, cumin, chili powder, oregano, seasoned salt, garlic, bell peppers and onions. Cook until softened, 8 to 10 minutes. Add the beef and let them love each other with fire over low heat for about 5 more minutes. The mixture should be moist but not dripping wet. Now you are ready to fill the empanadas.
Empanadas
Lightly flour a work surface and roll out the dough to 1/4 inch thick. Cut out 4-, 5- or 6-inch rounds, depending on how large you prefer. Add some meat filling to each empanada and fold the dough over in half to enclose the filling. Use a fork to press and seal the edges closed. You can refrigerate the uncooked empanadas for up to 3 hours.
Heat the oil in a deep fryer to 350 °F. Fry the empanadas until golden brown, 6 to 7 minutes.
Aioli Dip
Mix together the mayonnaise, adobo sauce and lime juice. (The flavor will enhance if it sits in the refrigerator.)