Cheesiest Fried Chicken Empanadas with Chili Con Queso Dip
By
Paula Deen
JUMP TO RECIPE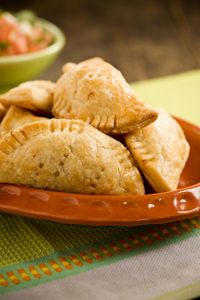 Difficulty: Easy
Prep time: 40 minutes
Cook time: 20 minutes
Servings: 12-15
Ingredients
1 (15 oz) package refrigerated piecrusts
1 1/2 teaspoons salt
1/2 teaspoon ground black pepper
1 tablespoon ground cumin
1 seeded and chopped jalapeño
1 chopped red bell pepper
4 oz softened cream cheese
1 (8 oz) package shredded colby and monterey jack cheese blend
3 cups (about 4 to 5 chicken breasts) cooked and chopped chicken
1 lb processed cheddar cheese
1 (16 oz) can drained diced tomatoes
1 (4 oz) can diced green chiles
2 teaspoons Paula Deen's Hot Sauce
Directions
Cheesiest Fried Chicken Empanadas with Chili Con Queso Dip
Preheat vegetable oil in a deep fryer to 350 °F.
In a large bowl using a rubber spatula, combine the chicken, colby and Monterey cheese, cream cheese, red pepper, jalapeño, cumin, salt, and pepper. Remove 1 piecrust from pie tin onto a lightly floured surface and roll into a 15-inch circle. Cut out rounds, using a 3-inch cookie cutter. Re-roll dough as needed. Repeat procedure with remaining piecrusts, making 12 to 15 circles total. Arrange 1 round on a clean, flat surface. Using a pastry brush, lightly brush the edges of crust with water. Place 1 heaping teaspoon of chicken mixture in the center of the round. Fold the dough over the filling, pressing the edges with a fork to seal. Repeat with the remaining rounds and chicken mixture. Place empanadas in deep fryer for 3 to 5 minutes or until golden brown. Top with con queso dip.
Note: Up to this point, the recipe can be made ahead and frozen for up to 1 month.
Chili Con Queso Dip:
In a medium sauce pot, slowly melt cheddar over medium/low heat. When cheese is fully melted add tomatoes, chiles, and hot sauce, stirring with spoon until combined well. Pour cheese dip into a small casserole dish and serve as a dip for the cheesy empanadas or pour on top for a real cheesy effect.