"Dee Dee's Home Run Chicken"
By
Paula Deen
JUMP TO RECIPE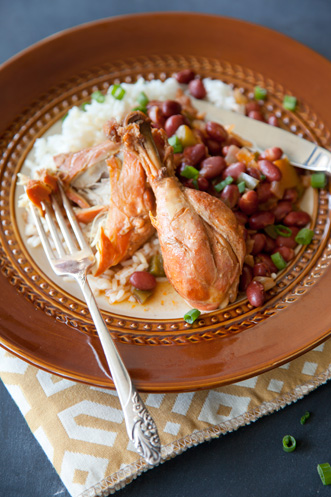 Difficulty: Medium
Prep time: 10 minutes
Cook time: 10 minutes
Servings: 10
Ingredients
2 tablespoons vegetable oil
1 teaspoon sugar
2 large tablespoons sazon seasoning
2 large crumbled, divided chicken bouillon cube
1 cut up, skin removed, bone-in whole chicken
2 tablespoons divided tomato paste
1 teaspoon ground cumin
1 teaspoon chili powder
2 tablespoons divided olive oil
1 strip sliced bacon
1/2 cup chopped onion
2 cloves minced garlic
1/2 cup chopped green bell pepper
1/2 cup chopped acorn squash
2 1/2 cups divided water
1 (15 oz) can drained red beans
1/4 cup chopped, for garnish fresh cilantro
1 teaspoon kosher salt
1 cup medium-grain rice
Directions
In a Dutch oven, heat the vegetable oil and sugar over medium-high heat. Add the sazon seasoning and 1 cube bouillon and cook until the sugar lightly browns. Add the chicken and let it fry, stirring it around to get all the sides browned, about 10 to 15 minutes. Stir in 1 tablespoon tomato paste, cumin and chili powder. Add water to just cover the top of the chicken. Let the water come to a boil and stir to make sure the tomato paste is combined. Taste the water for salt*. Cook the chicken stirring occasionally, until tender, about 45 to 60 minutes. Remove the chicken to a serving platter and coat with the cooking sauce from the pan. Serve with Habichuela.
*Cook's Note: As the water evaporates the flavor of the salt will come through, so be careful not to add too much salt.
Red Beans and Rice – Habichuela:
In a medium saucepan over medium heat, add the 1 tablespoon of olive oil and bacon. Stir in the garlic, bell pepper, onion, squash, 1 tablespoon tomato paste, 1 bouillon cube, and 1/2 cup water. Bring to a boil, then reduce the heat, cover with a lid and simmer for about 10 minutes. Add the beans and simmer for another 10 minutes. Serve over white rice, garnished with cilantro.
White Rice:
In a medium pot, bring 2 cups of water to a boil over high heat and add the 1 tablespoon of olive oil and salt. Stir in the rice, cover with a lid and let cook over medium-low heat for about 20 minutes. Lower the heat for the last 5 minutes. The rice should be soft and fluffy.