Slow Cooker Pinto Beans
By
Paula Deen
JUMP TO RECIPE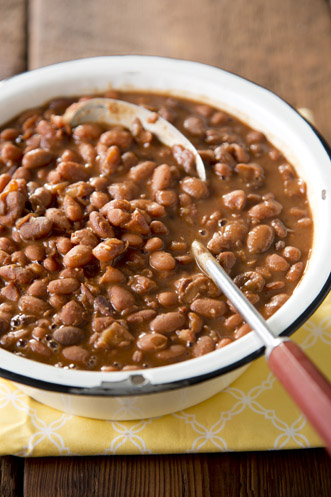 Difficulty: Easy
Prep time: 10 minutes
Cook time: 10 minutes
Servings: 10
Ingredients
1 teaspoon chili powder
1 chopped onion
4 cups water
1/2 lb ham hocks
1 lb dry pinto beans
1/2 teaspoon dried oregano
to taste Paula Deen's House Seasoning
Directions
Wash the beans and soak overnight in cold water. Drain the beans and dump into slow cooker. Stir in chili powder and oregano.
Pre-soak ham in a separate pot, for between 2 and 24 hours, depending on how salty you want your stock to be. Add ham-hock to slow cooker with beans and pour in ham stock into. Add more water until ham hock is completely covered.
Finish by adding onion to slow cooker with beans and meat. Stir well. Season to taste with House Seasoning, cover the pot, and cook on high for 5 hours.