Deep-Fried Squash
By
Paula Deen
JUMP TO RECIPE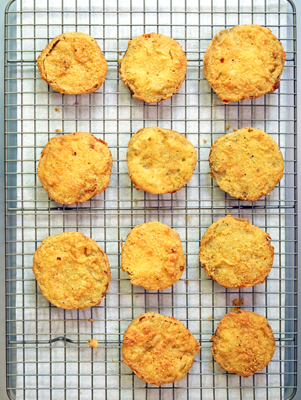 Difficulty: Easy
Prep time: 40 minutes
Cook time: 15 minutes
Servings: 8
Ingredients
vegetable oil, for frying
1/2 cup whole buttermilk
3 large eggs
4 medium yellow squash, cut into 1/4-inch thick slices
1 cup yellow cornmeal
1 cup all purpose flour
3 tablespoons cajun or creole seasoning
1/2 teaspoon baking powder
1/4 teaspoon salt
freshly ground black pepper
fresh parsley chopped, for garnish
Directions
In a large Dutch oven, pour the oil to a depth of 2 inches; heat to 365 degrees F.
In a large bowl, whisk together the buttermilk and eggs until smooth. Add the squash, tossing gently to coat; let stand for 30 minutes. Drain the squash, discarding the buttermilk mixture.
In a shallow dish, combine the cornmeal, flour, Cajun or Creole seasoning, baking powder, salt, and pepper, to taste. Dredge the squash in the mixture to coat.
Fry the squash, in batches, until golden brown, 2 to 3 minutes. Drain on paper towels. Garnish with parsley, if desired. Serve immediately.